Melbourne Civil
Marriage Celebrant
Add a touch of class to your function with unforgettable personalised words. Weddings, funerals, birthdays and ceremonies for all occasions.
Melbourne Civil
Marriage Celebrant
Add a touch of class to your function with unforgettable personalised words. Weddings, funerals, birthdays and ceremonies for all occasions.
I have been a performer, educator, MC, and public speaker for over thirty years. Over the journey I have had countless jobs at weddings:
MC / Wedding Singer / DJ
Photographer / Videographer
Best man, Groom, Groomsman
Audio Visual Technician
You can trust that I can assist you in any way you need to make your event run smoothly, and be assured that everything I do as a celebrant will work in seamlessly with the rest of the team.  
What exactly does a civil celebrant do?
How can I help make your ceremony unforgettable?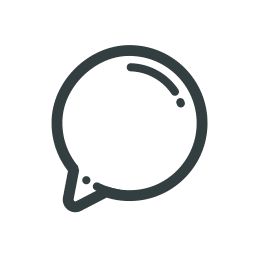 Personalised Ceremony
It's your special day – why should it be like anyone else's? I can write you a personalised ceremony that means something to you.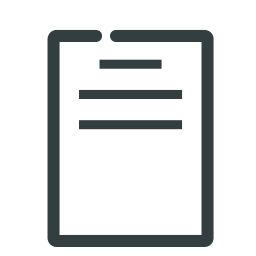 Legal Requirements
Legal marriages require a lot of paperwork to be completed. Any mistakes and your marriage could be void. I can make sure everything is submitted correctly, and at the right time.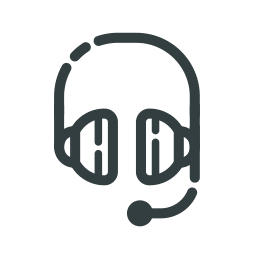 Experienced Delivery
I have been an entertainer and public speaker for over thirty years – trust me to deliver your beautiful words with the respect and dignity they deserve.
Organising a wedding is tough. So many people to talk to, contracts to sign, emails to answer, and invoices to pay. If you'd rather save yourself some time, money, and stress, chat with me about being your: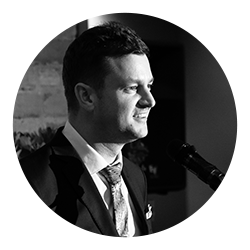 Celebrant
Preparing and personalising your ceremony, covering legalities.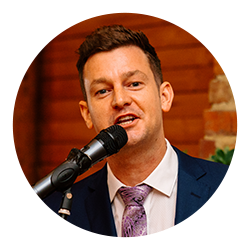 MC
Providing a consistent voice to host your ceremony and reception.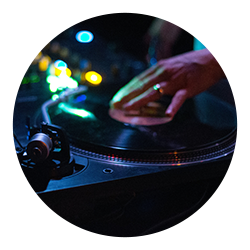 DJ
Setting a mood, then keeping the dance floor full until the bar closes!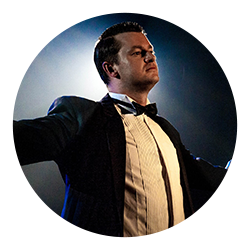 Live Musician
Add a touch of class with live music options for your ceremony and/or reception.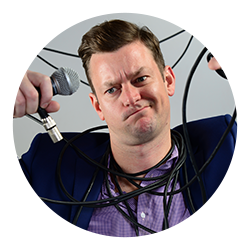 Audio Tech
Ensuring everyone in the room can hear, and the dance floor can shake!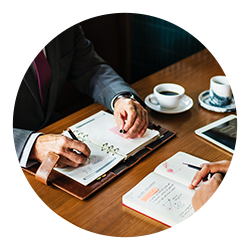 Wedding Planner
Taking the stress out of the logistics, communications and bookings for you.
Why feel overwhelmed when you're organising the best day of your life?!
I've had nearly 20 years experience, so let me take some of the headache away, and let you focus on the important stuff like friends, family and your future together.
Most importantly, you can save yourself a LOT of money and time.
Here are some kind words from some of the lovely people I've had the pleasure of working with over the years:
"From the day we met Chris he was personable, a clear communicator, built an open rapport and put us at ease. Chris walked us through the steps to build the wedding ceremony, listened to our ideas, made some suggestions then took the information away and came back with the perfect ceremony for us. Nothing was too hard and our day was amazing. Chris was friendly, engaged with the guests and an amazing musician to boot. We can't thank Chris enough for helping us have the perfect wedding.
"Chris was hands down the only choice for our wedding celebrant.  As a seasoned international performer, teacher and leader, we knew he would absolutely rock our wedding!  But when he pulled out a guitar and started singing at the reception afterwards, everyone was blown away.
He supported us from start to finish, and we leaned on him for his expert advice on weddings, parties and anything!  He personally met us a number of times to talk through our options, our style and our relationship.  He got to know us very well and delivered a touching wedding ceremony that totally got our unique style.
The documents he provided were great and helped us prepare for our own vows and speech. The ceremony was lovely, sweet, natural and professional – everything I could've wished for.
He is a rare talent and we were so lucky to have him by our side on such a special day."
"From the moment Rachel and I met Chris we knew we wanted him to be involved in our wedding. 
Chris helped us to overcome our jitters and almost felt like a family member throughout. He knows intuitively when to be funny or thoughtful and how to make everyone comfortable. With his background as an entertainer he has no problems engaging the crowd. Even our family members watching the ceremony online from overseas commented on how beautifully and professionally Chris walked us through the afternoon ceremony. To this day people who attended our wedding remember how different and fun it was and a lot of them mention how Chris made it so memorable for all of us."
"Thank you so much for acting as MC for our Gala Fundraising Dinner. You did such a fantastic job and it was a pleasure to have such a mature, capable and professional person to work with. It was especially helpful that you were able to bring such a willing and helpful attitude, making useful suggestions and being flexible with our foibles, which all helped create such a smooth and successful night. 
Your personal anecdotes fitted the situation to a "T", put the audience at ease and set such a warm and friendly tone to the night, and your humour and infectious energy really made the event. Again, I can't thank you enough for your efforts."
Chris was fantastic. He tailored the ceremony to suit us as a couple so well. We met up a couple of times before and it was all an extremely smooth process. Good sense of humour and he captured the crowd so well and was very professional but kept the ceremony quite casual which is what we wanted. Highly recommend Chris! Cheers for an absolutely awesome day!"
"Chris was so lovely to deal with and wrote the perfect simple ceremony for us. We wanted a quick easy ceremony which he organized from start to finish. He was also very communicative through emails, and extremely friendly and helpful when we met a couple of times in the lead up to the day."
"Chris was such an integral part of our wedding. As well as being our celebrant, he was the MC for our reception, and the DJ later on. Not only did it save us a heap of time, money and energy in the lead up, it was great to have a consistent voice throughout the day, and someone who understood the flow of the event from start to finish.
Throughout the whole process, Chris was professional, easy to deal with, and helped make our day extra special. Chris went above and beyond our expectations and delivered the most heartfelt ceremony, then later during the reception had our guests up dancing and having the most incredible time. We couldn't recommend him highly enough."
"Chris is one of the most confident, well-prepared, funny, and skilled speakers I have ever had the pleasure of listening to. His preparation for our wedding was both touching and humorous, and our guests still speak of the thoughtful but inclusive way he told our story. We revisit our ceremony every anniversary and each time we do we laugh and cry together at the memory. Thanks Chris."
"You won't regret hiring Chris, it's that simple!  He got our entire wedding laughing along with us, and crying at the romantic moments (even my father was crying, and he doesn't cry!).
The thing that stood out the most for us was his ability to see the big picture, and all the little things he did to make our special day run smoothly and be unforgettable. That will truly stick with us for ever."
Chris came as a recommendation from a friend and we are just so happy that he was available for our wedding. It made it extra special! Chris' voice and guitar added so much to the atmosphere and event. So many of our guests commented on how wonderful it was.
Chris is such a professional and went above and beyond to accomodate our requests. He was prompt with response on email and phone calls and so lovely and friendly to work with. Thank you so much Chris!"
Let's HAVE A CHAT!

Get in touch for an obligation free Meeting
Even if I can't officiate your wedding, I'm more than happy to give you some advice, and guide you in the right direction towards your perfect day.