Forgot to take a picture of lunch, but it was a busy day so I'm not surprised. I had to pick up a fridge in the morning, and get to the Yarra Valley for a wedding in the afternoon, then back to Melbourne for another meeting in the evening. Managed to scoff flesh in the small gaps in between. Energy levels great, work performance excellent, hunger low.
I've made a few tweaks lately that I think have helped:
1) Less food overall
2) Less salt
3) Less oil
4) Probably a bit less water
Headaches are much better, but I can't honestly remember the last time I had a satisfying trip to the bathroom. It would be going on 4 or 5 days for sure. I don't feel bad at all, but it's a bit worrying how much goes in, with nothing coming out. Eek! Looking forward to a big salad, and a glass of Metamucil!
Meal One:
– 1 650g rump steak
– 2 fried eggs
* NO IMAGE *
Meal Two:
– 1 porterhouse steak
– 2 fried eggs
– 2 pork spare ribs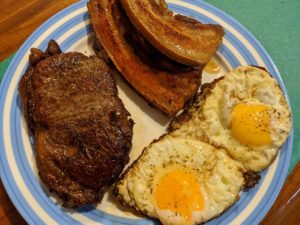 Weight: Unknown
Body Fat: Unknown